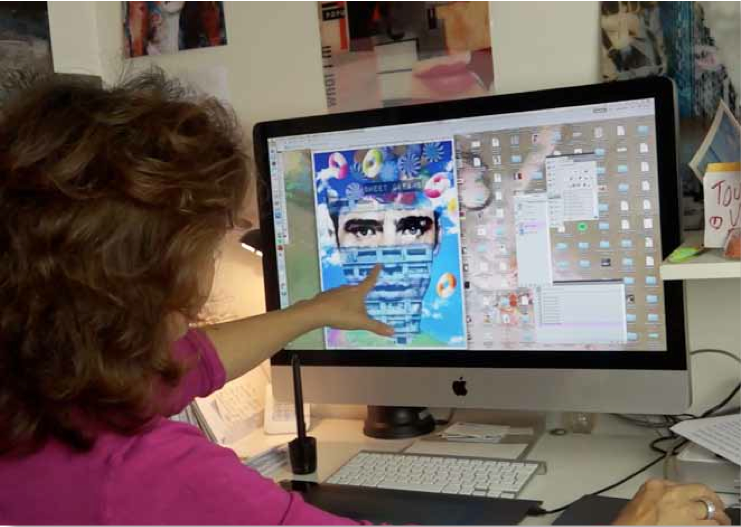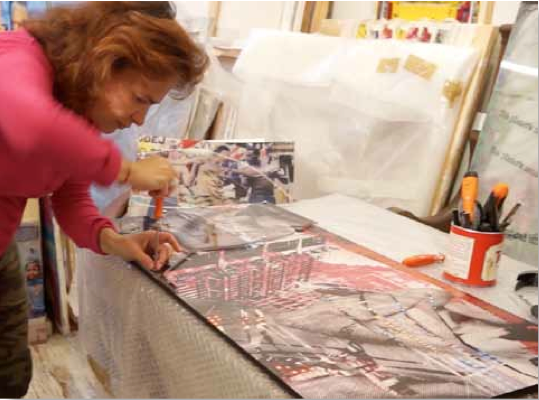 1987/88 kinetic artist Carlos Cruz-Diez's assistant , Atelier Cruz- Diez. Paris.
1988/94 Assistant in Atelier de Sérigraphie d'Art et d'Edition Del Arco , Paris. (Silk screen art studio and art publisher)



2000  Assistant trainee photographer Studio Elle Paris
2007/2012 Photography assistant for the Carlos Cruz-Diez Art Studio Paris.
1989 Ibéria Cultura cultural center, Paris.
1992 Bonneuil sur Marne cultural center. France.
1995 Venezuelan embassy cultural center., Paris.
1996 "L'Art au Marché" exhibition, Saint-Cloud. France.
1998/99  Nery Mariño Art gallery Le Marais ,Paris.
Lozano-lozada Gallery , Valencia , Vénézuela.
Christine Phal "courant d'art" Gallery Paris
2000 Venezuelan embassy cultural center., Paris.
Nery Mariño Art gallery Le Marais ,Paris
2002 Graphic Gallery »Vinculos », Caracas, Vénézuéla.
2003/04 The White Gallery, Barcelona , Spain.
2005 Nery Marino Gallery Paris
2007 Grancy Gallery, Lausanne, Suisse.
2010 Beaujon cultural center, Paris.
2013 ArtePlateforme Project Milogis Gallery Paris
2014 Falcon Art Gallery USA/ MACCA  Mexico
COLLECTIVE EXHIBITIONS 1998-2017
"Monflanquin 1998" , 2nd International Book art fair, France
« Courants d'Art » - exhibition Christine Phal Gallery, Paris
Etoile St. Honoré hotel exhibition Paris.
« 4 artists » - exhibition Christine Phal Gallery, Paris
L'art de l'éventail Espace Vénézuela et Musée de l'eventail, Paris.
« Communauté Andine des Nations » Eglise de la Madeleine, Paris.
UNESCO Head quarters "Bannières de la Paix" exhibition Paris, France.
Freites-Revilla Gallery, Boca Raton Art Center, Florida,USA.
Personal exhibition EMI Records/Latina , Miami Beach,USA
France Glob'Art Gallery Rouen, France.
The White Gallery Barcelona Sitges, Spain.
Diego Victoria gallery, North Miami Beach, USA.
Art Génération Art Gallery, Paris. France
A PRIORY Art Gallery collective exhibition Panama Panama.
Exhibition "Venezuela en Art" Contemporary Art Center Franck Popper France
Curators Art voice Gallery Miami Art District USA
Permanent collective  exhibition in Azamara Club cruises curated by Artwave
Montmartre Gallery Paris France. Permanent representation
ARTISTIC WORKS AND PUBLICATIONS 2008/2017
Publication of photos (portrait, artwork photographies in several art magazines, catalogues, books. For Cruz-Diez foundation/Museum of Fine Arts of Houston USA.
Publication of a photo Burst Art Project ARTFAIR website Miami Beach USA
Photo display in Carlos Cruz Diez's exhibition in NINGBO Museum of ART, China.
Photo report of venezuelan artist Manuel Merida in the art magazine ARTEFACTO Venezuela/Luster ArtMagazine
Dario Perez-Flores,César Andrade, Carlos Cruz-Diez,Armando,Esther Ojeda, Pancho Quilici

Illustration for the book « Mon corps me dit » written by psychologist Valérie Grumelin Halimi published by GuyTrédaniel may  2011.
Portrait publication in Régis Debray book Carnet de route Éd Gallimard 2016
Art Auction ARTCURIAL BRIEST – POULAIN – F.TAJAN
Hôtel Drouot-Richelieu Art auction, Paris. France.(20 participations)
WISO Miami Art '97 (Women International Sionist Organization), Florida, USA.
Salon de Mai 1990 , Grand Palais, Paris. France.
Festival International de Peinture de Cagnes sur Mer 1992 . France.
Salon Grands et Jeunes d'Aujourd'hui 1993 , Grand Palais, Paris. France.
Feria de arte de Maracaibo 2004 Vénézuéla avec la Graphic Gallery Caracas Vénézuéla.
Estampage , art prints Art Fair Espace Austerlitz , Paris.
« Feria Iberoamericana de Arte » Iberoamerican art fair Caracas,Venezuela.
Livres en Mai (Art prints Art Fair ) Lycée Henry IV Paris.France
24 th Marché de la poésie Art print Art Fair Place St.Sulpice Paris
"SAGA/FIAC EDITION"Espace Eiffel Branly,Paris
Paper print art Fair Espace Austerlitz, Paris.
FIA 2005 Feria de Arte Iberoamericano with avec la Graphic Gallery Caracas Vénézuéla.
Feria de arte de Maracaibo .Graphic Gallery Venezuela
Salon d'Automne 2013 Paris France
SELECT ART FAIR New York 2013 Galerie Bruno Massa
KIAF 2014 Séoul International Art Fair Galerie Bruno Massa
TOKYO ART FAIR 2015 Galerie Bruno Massa
AQUA ART FAIR 2016 Miami Galerie Bruno Massa