Represented in Paris France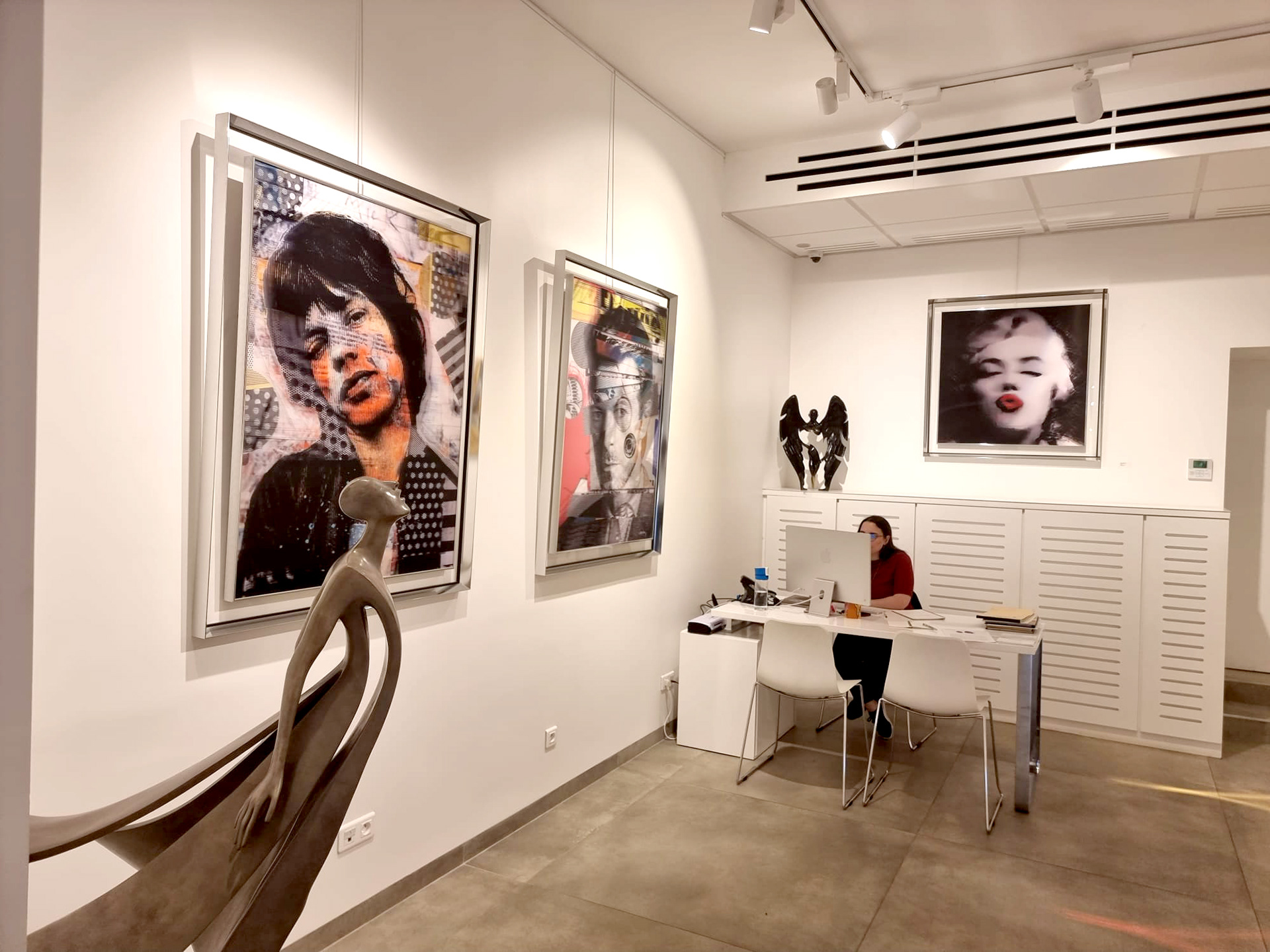 Lenticular art on display Marciano Contemporary Paris 
Since 1989 I've been a professional artist, painter, portrait photographer, and printer. My artistic background did not come through academic accomplishment, rather I gained my experience while working in art studios.
From the time I was small, I have been living in an artist- friendly environment. The people in my life included my parents, whom were both artists themselves along with teachers of art( venezuelan Muralist Armando Perez and painter Esther Ojeda). As this was my environment, I learned very quickly from my parents' knowledge and teaching of the arts.
I learned quickly and became not only a professional artist, painter and photographer, but also a serigraphy printer while working as an assistant for a decade to the well-known International
kinetic and optical art master, Carlos Cruz-Diez
. While working as his collaborator, I also learned and assisted him in silkscreen printing and photography in his atelier here in Paris.
I decided to continue my education at
Atelier Del Arco
, located in Paris, during the years of 1988 through 1994. I used my newly-acquired skills to compose traditional black-and-white photography in a lab owned
by printer and editor François Patez.
While working in the lab, I further improved my skills in art silk-screening by printing the creations of very well-known artists like Klasen, Miotte, Vasarely, Chu-teh Chun, Aurélie Nemours, Cruz Diez, Gianni Bertini, Velikovicz etc.
Through all of my experience gained thus far, digital art photography became my artistic outlet of choice. Digital collage photography is a technique in which two mediums gather, mixing photography and painting through a process used which implements a computer. This form of artistic expression is something that I feel expresses the painter, as well as the photographer within me.
As technology has evolved, new digital print techniques have proven to work very well with my expression of printing, which closely resembles my previous work (prior to digital), when I was involved in silk-screen printing (serigraphy)
I feel digital printing allows for a greater freedom of expression, allowing the use of a variety of techniques. My artwork can be printed on Plexiglas/perspex, aluminum, wood, cardboard and other mediums. My artistic persuasion has come from many influential art masters and now you can experience my finished creations on a different spectrum of finished products.
Andy Warhol, artist, was a leading figure in the visual art movement and focused on "pop art". This particular artist was a great influence to me. Another artist's approach to media photography and video got also my attention. His name is William Klein. My interest in his extensive use of the wide-angle lenses and motion blur clearly showed why he is was considered a "father of street photography".
My current works of art are clearly influenced by both kinetic, as well as pop artists, whom for some,I have known on a personal level since childhood. Along with the other artists mentioned, I have been fortunate in having exposure to different forms of artistic expression- from the human form to that of urban landscapes.
The discovery and use of the lenticular printing technique were very important for me.
Once again in my artistic work I have incorporated a printing technique, after the serigraphy, and the flatbed on various materials, now it's the lenticular printing.
With this technique I realized that my photos and collages could have some more dynamic effects and tackle themes with a more conceptual approach. I also liked the idea of the possibility of interaction with the viewer, and him being seemingly conquered by the kinetic effects of the lenticular.The benefit of this technique is that it allows the animation of a static image, with in depth 3D effects, effects of image transition (Flip) etc
This technology in which lenticular lenses  are used to produce printed images with an illusion of depth, or the ability to change or move as the image is viewed from different angles.
The lenticular printing technique is a Time-space and movement vector(J. Lujan):
Allows to visually develop the space concept, through the depth effect and image volumetry.
Offers the possibility to represent the movement time from incorporating animated sequences visually .gif. Cinema. Animation, etc.
Amplifies the possibility of the image narrative. Example, a before and after, a mini story, etc.
Invites the participation of the observer from his interaction with the piece. The observer moves from side to side to observe it.
Allows to generate finished works or makes it possible to intervene the material, to cut, to assemble and to build new pieces adding other materials.
Offers a field to incorporate other current technologies of imagery production like 360 degrees, virtual reality, extended reality.
What I provide as my final artwork, express what I call my "language". They are the words which express my inner feelings and visions, and are representative of the color of my mood.